Penis extender description FDA
Penis extender, manufacturer and retailer, The original ANDROPENIS (20 years) is the only Penis stretcher is a US patented penile traction device with comfortable tech. It is FDA approved.
Andropenis penis extender has to be used with the penis in a flaccid state. The gadget can be made use of 4 or 9 hours a day, relaxing when required.
At the beginning of your penile enhancement. You will certainly acquire an estimated development of as much as 0.2 inches (0.5 centimeters) monthly ((PDF & Nature).
The Andromedical devices enhancement system is simple to wear throughout the day and get rid of as required. It is very discreet, comfy as well as might be worn while strolling, sitting as well as standing.
The advantages of utilizing a grip penis extender are that they are clinically proven to work. The results you obtain will stay with you long term definition after you use this gadget you won't need to go searching for any kind of other kind of therapy.
A penis extender functions by applying a constant light stretch to your penis daily. This stretching activity is a kind of tension applied to the penis called "penis traction" which is the extremely basis behind the science of the Andromedical devices. The process is pain-free and does not conflict with the normal functions of your penis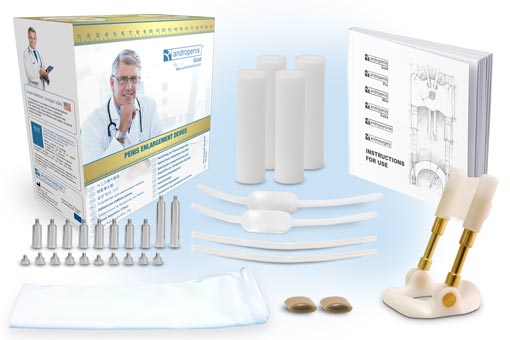 User Requirements:
Your penis size must be at least 3.2 inches (8 cm) in erection.
You must be between 18 and 65 years old.
Tech Specs:
The metal shafts of Andropenis gold are made of nickel covered with a layer of 24 carat gold.
The metal shafts of Androextender are made of surgical aluminum.
ANDROMEDICAL devices The exclusive ANDROKIT support piece enables the distribution of pressure on two different silicone tubes, spreading it along the shaft of your penis and also removing discomfort. The addition of 2 silicon straps additionally makes sure that the proper stress needed on the penis continues to be continuous and gets rid of all possibility of slippage. Unlike various other penis extenders with so called "convenience BANDS" our clinical quality convenience pads allow for far better blood circulation within the penis. Correct circulation is essential to advertising mitosis and cytokinesis resulting in penis enlargement
Testimony of professionals
"The literature in a number of medical disciplines supports the concept of tissue expansion. The preliminary observations presented…"
Dr. Wayne Hellstrom

Andromedical America-Asia
410 Park Ave, New York, NY 10022, USA
Andromedical Europe-MEA
6 Gran Vía, 4th, 28013 Madrid, Spain